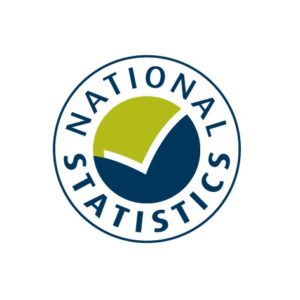 Office for Statistics Regulation (OSR) is exploring how National Statistics designation is understood, particularly outside the official statistics system.
'National Statistics' are the most important official statistics that have been demonstrated to meet the very highest standards of trustworthiness, quality and value, set out in the Code of Practice for Statistics. Only they carry the unique logo of the National Statistics tick mark, having been designated by OSR, as the regulatory arm of the UK Statistics Authority.
Back in March 2020 we published the findings and recommendations from our exploratory review into the National Statistics (NS) designation, looking to see whether the time is right to consider the nature of the designation and how well it serves society's needs now. We concluded that from the views shared with us that, indeed, this is a question we need to ask and answer.
Since then we have conducted some desk research to help us clarify a route forward and formed a steering group of experts from a variety of fields to help advise us. We share below the project aims and our overall plan. We will update this as our work develops and we will be sure to promote some opportunities to input your thinking into the review.
If you have ideas about the ways that you would like to input, please email the project team.
Check out our blog on the history of National Statistics – we have looked into where the term came from, to see how its meaning has shaped our thinking and to help us as we look ahead. We will continue to share our thinking as we go forward.
The project aims are to:
to clarify what the NS designation means, and
consider the case for making appropriate reforms
We want to re-imagine the designation, if necessary; not just find a different way to do the same thing.
The overarching research questions are:
how should the designation be designed to reflect fitness for purpose in a data abundant world?
what do customers need from the designation?
The review is divided into three phases. Phase 1 was the exploratory review, with Phases 2 and 3 entailing in-depth research and engagement.
In Phase 2 we are examining more fully the nature and usefulness of the National Statistics designation for producers and other stakeholders, to determine whether the designation meets the needs of official statistics in serving the public good in a data abundant world. It focuses on understanding the designation better, including the designation's historical context, an international comparison and how we can learn from other regulators such as their use of rating schemes.
We are commissioning academic research about wider regulatory approaches as part of this stage, as well as examining the usefulness of score cards and how they may help capture and share key information. We are also looking more deeply into explaining uncertainty and how clearer explanations about limitations may better help users make decisions on whether to use some official statistics. We will speak with experts and stakeholders as part of these research strands.
Our steering group comprises experts from a wide range of backgrounds, mostly outside of official statistics to give us insight and challenge as we develop our research. As well as contributing to steering group meetings, individual interviews have been held with each member to help better inform the focus of the designation research.
We are keen to publicly share our emerging thinking and are looking to arrange follow up conversations to hear others' thoughts. We will tweet the release of our blogs – do contact the project team if you would like to share your comments.
Phase 3 builds on what we learn in phase 2 and focuses on users and their understanding and needs, to find effective ways of communicating the designation. We will work with communication experts and psychologists to understand effective ways of summarising our judgements and giving information that helps users make informed choices. We plan to run focus groups and open discussions, to capture the stakeholders' views. We will also involve users and producers in any testing of new ways of explaining key messages about statistics and their suitability for use.
Review Roadmap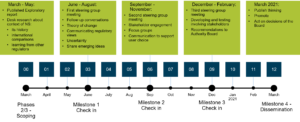 The Steering Group will:
Advise on the coherence of OSR's review activity, including the extent to which planned work will meet the aim of clarifying the meaning of the designation and determining the case for appropriate reforms, and how the impact of clarifying the designation might be evaluated
Suggest ideas for further analysis and external contacts who OSR might usefully approach
Challenge OSR's approach to managing the risks associated with the review
Comment on research of review activity – both discussion papers and the final report to the Regulation Committee.
Advise on the communication of the review, particularly in relation to the implementation of any proposed changes to the designation
Membership
Helen Boaden (Chair, Non-executive Director, UKSA)
Ed Humpherson (DG for Regulation, OSR)
Ian Diamond (National Statistician)
Richard Laux (Cabinet Office)
Guy Parker (Advertising Standards Authority)
Allan Leonard (FactCheck NI)
Emma White (University of London)
Peter Matejic (Joseph Rowntree Foundation)
Kate Barker (Economist)
Julian McCrae (Institute for Government)
Please get in touch
We would like to hear from users, producers and other stakeholders with a keen interest in sharing their ideas.
Feel free to contact the project team – Penny Babb and Catherine Bremner – at any time by emailing regulation@statistics.gov.uk.