As the deadline for applications for our Statistical Excellence award nears, the joint-winners of the 2020 award, the Scottish Fiscal Commission, have written a guest blog about how they won and what the award means to them.
Apply for the 2021 Award
 for Statistical Excellence in Trustworthiness, Quality and Value by 
30 April 2021.
What is the Scottish Fiscal Commission?
We are Scotland's independent fiscal institution (IFI). The Commission was created to serve the needs of increased fiscal devolution in Scotland. We are a young organisation, established in 2017. Our official economic and fiscal forecasts are used by the Scottish Government to formulate the Budget, the Scottish Parliament to scrutinise the Budget, and stakeholders and the media to inform public debate. We are not considered an official statistics producer, but we made an active choice to apply the Code of Practice for Statistics wherever possible.
The Code and the award
Since our creation, we followed the majority of the Code of Practice for Statistics principles. But in March 2018, we published a statement setting out our ongoing commitment to voluntarily apply the Code.
Last year, following encouragement from former team members, Mairi Spowage and Laura Pollitt, we decided to apply for the award. It was the first year the category had been created so we had no template to go on. Although the Commission is not an official source of statistics, we're committed to upholding the pillars of the code – trustworthiness, quality and value – so it was just a question of evidencing how we do this.
We outlined our processes which include routinely pre-announcing our publications; helping data providers to plan their work by publishing an annual Statement of Data Needs, ensuring we accompany our publications with underlying data so others can use them and by communicating our work as widely as possible via our website, social media and events.
We also outlined our success in developing a reputation for delivering independent and credible forecasts, for which we were recognised by the OECD in an independent review published in 2019.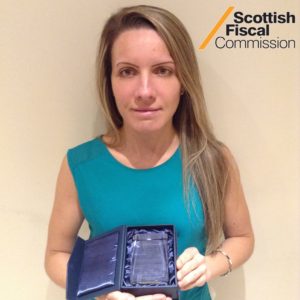 We were delighted to receive the award. We know that our stakeholders and ultimately the public depend on us to uphold the highest standards of statistical practice as a matter of course, so we were grateful to the Royal Statistical Society and the Office for Statistics Regulation for the opportunity to have our work endorsed in this way.
Any civil service organisation voluntarily applying the Code of Practice for Statistics to their work can apply for this year's award. You can see the full list of organisations who have committed to apply the Code and more information about applying the Code on the Code of Practice website.
2021 Award
Apply for the 2021 Award for Statistical Excellence in Trustworthiness, Quality and Value by 30 April 2021.