Collaboration is far from a new concept in the world of official statistics, but the refreshed Code of Practice (launched in February 2018) gives it a new emphasis. Collaboration is a cross-cutting concept in the Code, and something we should all be looking to embrace.
Collaboration appears throughout the Code, for example: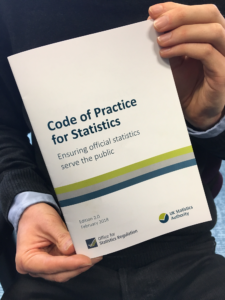 Trustworthiness, when statistics producers take opportunities to share resources and collaborate to achieve common goals (practice T4.4)
Quality, when statistics producers work with experts to make methodological improvements (practice Q2.6), and
Value, when a comprehensive and coherent narrative is provided to users through statistics producers working with others to tell the full story (practice V3.5)
Here in the Office for Statistics Regulation, we see time and time again that collaboration can lead to trusted, high quality statistics that provide public value, particularly when it supports producers to improve and innovate. This article celebrates some of the different ways statistical producers working in Children, Education and Skills statistics have collaborated to drive improvements. We hope it will inspire you, regardless of your policy area, to look for ways you can work with others to get the most out of all your data and statistics.
Working together to improve Children, Education and Skills statistics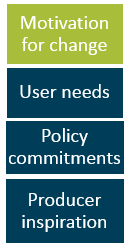 During our project exploring improvements in Children, Education and Skills statistics we weren't surprised to hear that often collaboration was an important feature in development work. All the projects we heard about had the aim of improving the service offered by producers, however the motivation for the changes came from a range of places. Some ideas came from user feedback, others were in response to policy commitments and in some cases, they were self-generated by the producer teams. In responding to these identified needs, producers often worked collaboratively to find solutions. They got input from users of the statistics, worked with analysts from different producer bodies, and sought technical advice from across the GSS. Collaborative working in this way has helped inspire and inform change and has helped to ensure that the projects are going to meet their aims.
1. Work across the landscape
Often multiple organisations have an interest in a particular topic area, and in many cases more than one organisation produces statistics relating to a particular policy or subject matter. For producers to ensure their statistics are meeting users' needs they should consider the landscape as a whole and work across it.
Depending on the scale of the topic area this may involve
Producers of statistics working together in a coordinated manner with clear leadership
Understanding user needs, how users use the various statistics and for what purpose and if any needs are unmet
Understanding and acknowledging issues with the current provision
Taking ownership of issues and working together to implement solutions
It's critical to understand all the available statistics as well as how users use the different data available when making long term plans for your statistics.
Case Study: Scottish Government and Skills Development Scotland
Skills Development Scotland and the Scottish Government education team produce statistics on young people in Scotland. Scottish Government reports on school leaver destinations in its Initial destinations of Senior Phase School Leavers and Summary Statistics for Attainment, Leaver Destinations and Healthy Living publications. Skills Development Scotland produces its Annual Participation Measure for 16–19 year olds in Scotland which reports on the proportion of the 16-19 year old cohort, including those at school, who are in learning, training or work. These statistics are produced to support and monitor outcomes at school and Local Authority level and in response Scottish Government's Opportunities for All commitment of which the Annual Participation measure is now the key source of data on outcomes for 16-19 year olds.
The team at Scottish Government recognised what might be perceived as a confusing landscape for users who may not be clear on which statistics to use for what purpose. They reviewed all the available statistics about school leaver destinations, and with the support of Skills Development Scotland ran a consultation to find out how the data is used  and what users felt about proposals to reduce the duplication of statistics. As a result, they have come up with a long-term plan to reduce duplication and simplify the statistical landscape builds upon the progress made in recent years.
2. Find creative solutions
Collaborative working can bring real benefits to producers and to statistics. Depending on the scale of the project this can involve significant resource implications for partnership working including sharing both people and data, as well as potentially other resources. Producers sometimes need to think creatively to overcome these challenges, whether it's finding other organisations with sufficient interest to share costs, or setting up new ways to share other resources and expertise in a safe and effective way.
Being able to achieve such solutions will often require senior level buy in and there is an important step at the outset of development projects about statistical teams securing that high-level commitment through being clear on project outcomes and benefits.
Case Study: Ofsted and NHS Digital, Ages and Stages Questionnaire
Ofsted statisticians identified an opportunity to explore data in the Ages and Stages Questionnaire collected by NHS Digital, driven by a desire to provide Ofsted inspectors with more information about early years setting. As an Ofsted initiative, and after securing buy-in from senior leadership, a secondment arrangement was established which allowed an Ofsted analyst to work in NHS Digital to explore this work and have secure access to data sources to take forward the project with the appropriate security controls being adhered to. This sharing of resources, with Ofsted sharing a member of staff and NHS Digital sharing access to its resources, resulted in the
release of a publication
describing the exploratory analysis undertaken which was welcomed by both producer bodies, and demonstrated the value in focussing on improving the quality of some of NHS Digital's less frequently used data sources.
3. Keep the conversation going
Several projects we heard about involved a strong element of input from users or data suppliers in the development of new tools to access data and statistics or to improve data quality. When working with users or data suppliers it is important to maintain ongoing conversations particularly if producers are working on longer term or continuous improvement activities. The relationships with these groups can be managed in different ways, but always require clear communication routes and feedback loops into the producer teams.
Where producers are proactive in engaging with user groups, this can help ensure the end-product or service will meet their needs.  For example, involving them in development work through user testing and actively seeking feedback.
Case Study: Scottish Funding Council's College Leavers Destination Data
When Scottish Funding Council (SFC) started to report on leaver destinations the data quality was poor. Over the years they have built relationships with the quality management staff in colleges, who are one of the data providers for leaver destination data. SFC started to develop a bespoke reporting tool for colleges, partly for quality assurance purposes and partly to meet a specific use for these statistics within colleges. This development now focussed on colleges as users and in doing so SFC have raised awareness and understanding of the potential use of the data they provide. College quality management staff have told us that they have found the SFC very helpful and responsive to their needs. In providing this additional service to colleges, they have managed to improve the completeness of the college leaver destination data and integrated greater quality assurance into the data collection process.
4. Share expertise and learning
Throughout our conversations across the UK we often heard about producers facing similar challenges to innovation, particularly when trying to develop new tools (which you can read more about in our next article, developing alternative outputs). Regardless of location, it's possible to share expertise and experience and start collaborating.
Over to you
If you've completed a project tell other producers about what you have learned; what are your successes, what challenges did you face and how did you deal with them, and what benefits have resulted for users. Why not write a blog for the GGS website (like this one by the statisticians at Ofsted ) or present at conferences?
Explore and use expert group forums in your area, organisation, or professional group. For example, if you've got a burning question about how to create a reproducible analytical pipeline, or want to set up a local event for people interested in using R, join the Government Data Science slack group.
The aspects of collaborative working described above are of course not a complete overview of the benefits of this approach and do not cover the full range of opportunities available to producers in developing data and statistics. For example, the projects covered in this review have not featured working with academics or other subject experts, or statisticians covering similar policy areas in other devolved administrations. What has been clear is that producers are seeking input from others to help in their endeavours to improve statistics, and this is something the Office for Statistics Regulation welcomes and we positively encourage all producers to explore the benefits of this approach within their development work.