A framework for user engagement
This publication was updated in April 2022 to migrate the contents to HTML and improve accessibility.
We present a simple framework for analysts and their organisations when thinking about and planning user engagement activities. It is informed by the relevant practices of the Code of Practice for Statistics (see principles V1: Relevance to users and T4: Transparent processes and management) and builds on practice areas that we identified in our review of the Defra group's engagement approach.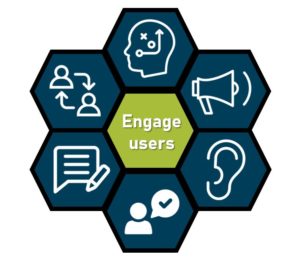 The framework highlights six practice areas. As producers of statistics you need to promote your statistics, understand the need for information, listen to what users have to say and act on the feedback. And to be effective across the organisation, user engagement needs to be planned and collaborative.
The framework is not so much a cycle, as all of the practice areas should be considered throughout your work and across the work of the organisation. Having said that, for analysts it might be helpful to begin with what you do already and think how you can raise awareness about your statistics. Use your statistics as the starting point for the conversation and have an ongoing dialogue with your users and stakeholders.
For the organisation, again start with the purpose and mission:
How do you make a difference to society?
How do you deliver your services and who do you work with?
How can you work with other partners and the public to better understand their needs and deliver effectively?
How do your statistics help inform your service?
What information do you need to be successful?
To answer these questions and meet your organisational goals effectively, organisations need to have a culture of engagement, listening to their stakeholders, partners and staff. Statisticians and other analysts can make a valuable input to this conversation.
Back to top