Background
What is casework?
One of the Authority's key roles is to use our voice to stand up for statistics and to represent the public, monitoring and reporting publicly where we have concerns and highlighting good practice. Casework is the tool that best allows us to be responsive and investigate issues quickly as they arise.  
There are two main routes to an issue becoming casework:  
we identify the issue (self-generated casework)

 

someone brings the issue to our attention 

 
The Authority's Interventions Policy, updated in May 2021, explains how cases are brought to our attention and the factors we consider in determining whether and how to intervene. The topics covered by casework can be varied, for example, around potential misuse of statistics, or questions may be posed about an aspect of the quality or presentation of a set of statistics.
The Authority's Interventions Policy was first published in 2017, and was designed to set out our practices for intervening when official statistics were misused in public debate or when the standards of the Code of Practice were not upheld. In December 2020, we published a series of Frequently Asked Questions to provide more information on when and why we intervene in statistical matters, and provide guidance and support for those raising issues with us. Following a period of consultation, a refreshed Interventions Policy was published in May 2021 which includes further detail on how we make decisions on whether to intervene on an issue.   
The role of the Office for Statistics Regulation
The Office for Statistics Regulation (OSR) was established in 2016 as the regulatory arm of the UK Statistics Authority. OSR sets the Code of Practice for Statistics and is responsible for the Authority's casework function, undertaking monitoring to identify issues and investigating issues raised with the Authority. OSR operates independently of statistical producers, including the Office for National Statistics (ONS). OSR's remit covers all official statistics across the UK whether produced in ONS, government departments or other specified bodies.   
Once an issue has been identified, OSR will form a judgment on the issue and consider the most effective response, working with the Authority Chair where relevant. The decision on how to respond will be guided by the intervention policy and will focus on the best way to achieve the desired outcome. Interventions may be public or private, and might include telephone calls, letters, statements or related blogs. All issues we considered are published on our issues log, whether they are handled publicly or privately.  
OSR has been developing automated monitoring to complement monitoring and horizon scanning undertaken by individuals within OSR and issues raised with us. This is a project under continuous development, but has already supported OSR in identifying issues, for example through monitoring Twitter and highlighting relevant issues. Issues identified through this route sometimes become self-generated casework. It also allows OSR to monitor issues which can then be dealt with more effectively or quickly when subsequently brought to our attention by others.   
Context
This report focuses on casework raised (externally or internally) between 1 April 2020 and 31 March 2021 (2020/21). During this period, we considered 323 pieces of casework. This is nearly three times the volume of the previous year (109 cases), which was itself the highest number to date. There was a strong focus on the coronavirus pandemic, which led to unprecedented changes in society and the economy which have been reflected in our casework. 
Figure 1: Number of cases per year, 2008 to 2021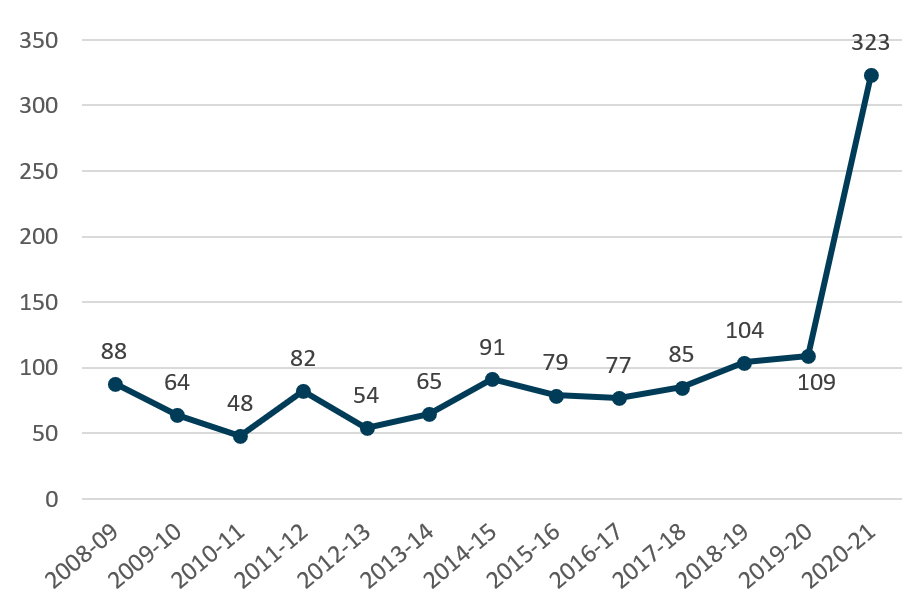 The data used to create this graph can be found in Tab 2 of this Excel Spreadsheet.
Back to top
Download PDF version (521.01 KB)