Issues
What issues did we investigate?
Issues we see raised with us via casework provide an insight into issues that mattered to the public, particularly those with an interest in data and statistics. Therefore it is no surprise that in the year from April 2020 to March 2021 the COVID-19 pandemic featured heavily in our casework.  
Three quarters (76%) of the issues we considered in 2020/21 related to the COVID-19 pandemic in some form. The majority of these cases related to health and social care, including COVID-19 prevalence, testing, deaths, and vaccinations. 
We also investigated a number of non-health related cases that were driven by the pandemic, reflecting the wide ranging effects that the pandemic has had on everyday life. The impact of COVID-19 on education was reflected in cases about COVID-19 prevalence in schools and school attendance. Casework also prompted our review of the statistical models used to predict exam results following the cancellation of exams in the summer of 2020, which we published in March 2021. 
While COVID-19 dominated our casework programme last year, we continued to receive enquiries on other issues. Key themes included population and society, including the Census; crime and justice; and the labour market including cases on benefits and poverty. One of the most significant non-pandemic issues of this year was population estimates and housing projections; this led to OSR undertaking a review of population estimates and projections, the findings of which were published in May 2021. 
What were the themes of our casework?
Casework complaints are broadly split into two categories – use/misuse of statistics, and compliance with the Code of Practice for Statistics. This year, the most common issue for our casework was around the quality, reliability and trustworthiness of statistics. This is a fundamental aspect of the Code of Practice. Code compliance assesses whether official statistics have been produced and presented in line with the Code of Practice for Statistics. Use/misuse of statistics is another common issue – where there is a concern about statistics having been used inappropriately or incorrectly in public debate (whether deliberately or not). 
This year (2020/21) was the first year where the use or misuse of statistics was not the most common issue. This year, the category with the highest number of cases related to the quality and trustworthiness of data (see Figure 2). Cases in this category often relate to the perceived accuracy of statistics; a common theme this year was that of the statistics being produced around COVID-19 testing and deaths, including the way these figures were being calculated. The increase in the quality theme this year reflects our observation that the pandemic caused an increase in public interest in the trustworthy production and publication of statistics, particularly as statistics were being used so frequently and publicly to justify decisions affecting peoples' everyday lives (for example whether or not to impose restrictions on people's lives because of the pandemic). 
Figure 2: Casework categories, 2019-2020 vs 2020-2021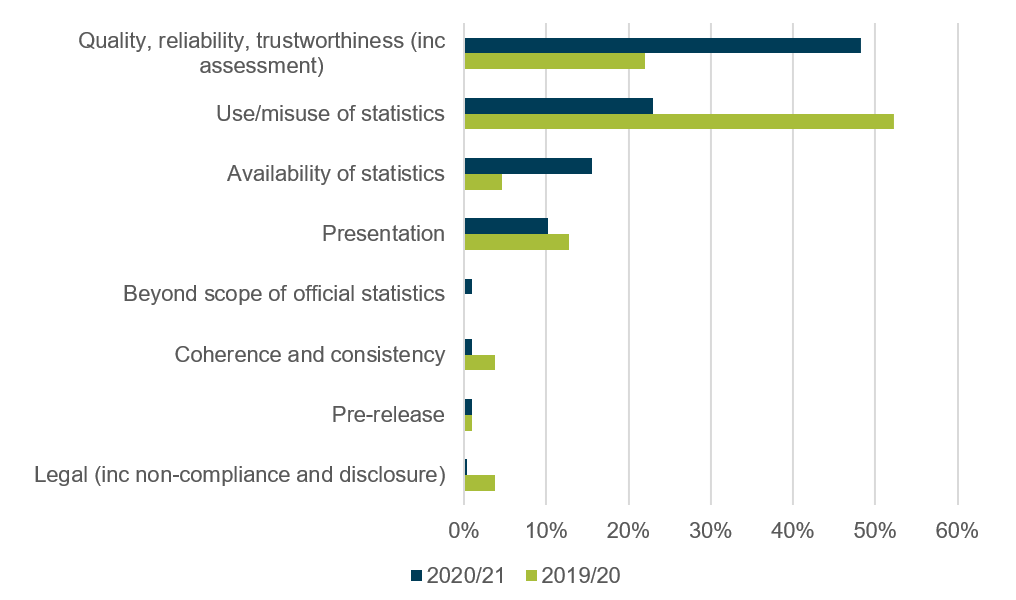 The data used to create this graph can be found in Tab 4 of this Excel Spreadsheet.
Over the last year, we have been increasingly aware of concerns relating to transparency coming through in casework; for example, where statements have been made or published which cannot be backed up by data in the public domain, or issues which relate to publication delays or decisions not to publish official statistics as expected. Our role in promoting transparency was recently mentioned in a report by the Public Administration and Constitutional Affairs Committee, who supported our work in this space and transparency in government more broadly. Over the last year (and into 2021/22) we have investigated a number of cases where transparency, or a perceived lack of transparency, has been an issue. We have set out our expectations around transparency in a number of recent outputs including our State of the UK Statistical system report, a statement on COVID-19 management information, and a standalone statement on data transparency. Transparency will be a continued focus for OSR throughout 2021/22. 
Case study: Transparency of COVID-19
On 31 October 2020, at a Government briefing announcing introduction of coronavirus restrictions, the Government's Chief Medical Officer, Professor Chris Whitty, and Chief Scientific Officer, Sir Patrick Vallance, presented a series of data on the COVID-19 pandemic. The data underpinning the briefing were not in the public domain at the time of the briefing, and were not published until 3 November. This was not in line with our expectations about equality of access. 
On 5 November, we published a statement setting out the steps that should be taken to support transparency, including the publication of data sources and supporting information on models. An article including a quote from the Authority Chair, Sir David Norgrove was also published on the UK Statistics Authority website. 
The intervention highlighted the public interest in transparency, with widespread media coverage and visits to our website over the following 24 hours far exceeding our typical website traffic. It also led to senior officials restating their commitment to transparency, including Sir Patrick Vallance writing publicly. Following the intervention, Welsh Government also announced plans to publish its briefing slides and data sources in a single place. In addition to specific changes, the intervention also provided a strong basis for further engagement emphasising that confidence in organisations producing statistics and data is supported by the publication of clear and accessible data.
Back to top
Download PDF version (521.01 KB)